School Meals
A fresh hot meal is prepared each day by Bolsover C of E School, delivered to us and served in the dining room. The menus are designed by Derbyshire County Council to meet the Government's current nutritional standards and follow a three week cycle. Printed menus are distributed to parents by the school office when a new one becomes available – they are changed twice a year, Autumn/Winter and Spring/Summer.
In line with promoting healthy choices, we offer a standard portion of a main meal with vegetables, salad, bread, fresh fruit and drinking water is freely available. We also have special 'theme days' throughout the year which are fun and the same price as a regular school meal. The cost for lunch is just £2.20 a day - this can be paid each week online using ParentPay (ask at the office if you'd like to be set up on this). You can view the current menu here.
Could your child be eligible for free school meals? In these difficult financial times, we want to make sure you're getting all the help you're due. A lot of people don't claim free school meals even though they're entitled. That's why Derbyshire County Council has launched the Quids In campaign, to encourage people to check if they're eligible.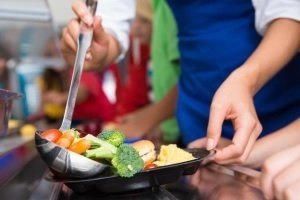 You don't need to worry about other children knowing your child gets free school meals. Only the school and catering staff will know.
You could save £400 a year for each child and your children could benefit from a good hot meal at lunchtime. The school will benefit too − they'll get the pupil premium of £900 a year from the government for each child on free school meals.
If you get any of these benefits, you could be eligible:
• Income Support
• Income based Job Seekers Allowance or an Income-related Employment and Support Allowance
• The guarantee element of State Pension Credit
• Support under part VI of the Immigration and Asylum Act 1999
• Child Tax Credit (with an annual income of less that £16,190)
You will not be eligible if you are claiming Working Tax Credit.
To apply go to www.derbyshire.gov.uk/freeschoolmeals and fill in the form. Or you can ask the school office for a form.
Don't forget that all children in Reception, Year 1 and Year 2 are automatically entitled to free school meals under the Governments 'Universal Free School Meals' policy.