Internet safety
Internet safety lessons are taught regularly each half term. We take part in Internet Safety day every year, this year this is on Tuesday 11th February 2020. The theme is 'together for a better internet'. We will be completing different activities throughout the day from Nursery to Year 6.
Google Internet Legends
We were lucky to have a visit from Google Internet Legends for years 3 to 6. We discussed different ways to stay safe online whilst having fun.
This is a Google review by Year 5 pupil.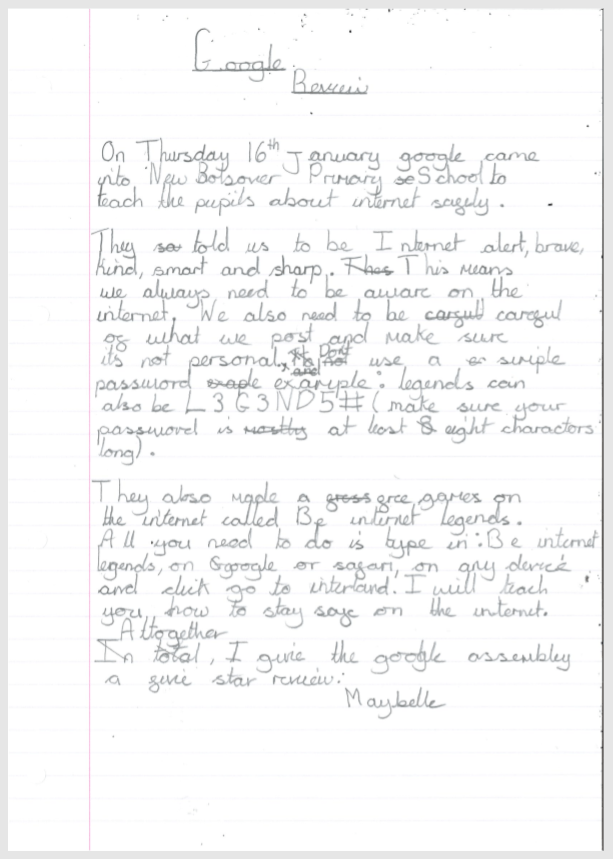 saltmine theatre performance - escape
Years 2 to 6 saw a performance about staying safe online and then completed an interactive workshop afterwards with the actors.
These are the rules of staying safe online we discussed throughout the performance:
Never leave the path or meet with anyone you meet online.

Never give out your personal information: e.g. your name, address, telephone number etc.

If you ever feel worried or scared call for an adult you trust.

Have fun!
As part of our Internet safety discussions we have talked about gaming. Children should be aware of the PEGI rating for games as this shows them what is suitable for their age range and the games that will be enjoyable to play. For more information on PEGI ratings please click here.
For more information on Internet safety and how to help your child stay safe please see the following websites:
https://www.nspcc.org.uk/keeping-children-safe/online-safety/
https://www.internetmatters.org/advice/
Curriculum
We are starting to follow the Purple Mash scheme of work for computing. Topics covered include:
Coding and computational thinking
Spreadsheets
Internet and email
Art and design
Music
Databases and graphing
Writing and presenting
Communication and networks
Children will be able to access purple mash with their individual user names and passwords, to continue their learning at home.
In the EYFS the children have access to a range of technical toys and age appropriate software. These toys and games can be selected independently during self-select time.