Community
We are working with Woodhead Construction who are upgrading the houses on the Model Village. They supported a competition for decorating an Easter Hard Hat, with prizes for the winning pupils.
Heritage Project on the Model
Y3, Y4 and Y5 have been involved in a heritage project this week. They had to do activities including: Map work, making our own model village, exploring old photos and comparing them to new places and exploring the model. They had loads of fun and Y4 student Summer Clark-Price says "It's a very interesting topic" also Y4 student Beau Ashley says "I thought it was SUPER fun and I can't wait to do more!" Also they found out some facts about the model: They started building it in 1891 and finished it in 1896, there are 194 houses. There are some games that they played like: Orientating, Compass Work and Designing our own model village. They also went into the builders' site. They had loads of fun!!!
Written by Kira Clifford Y4
The Flower Festival in church- July 2017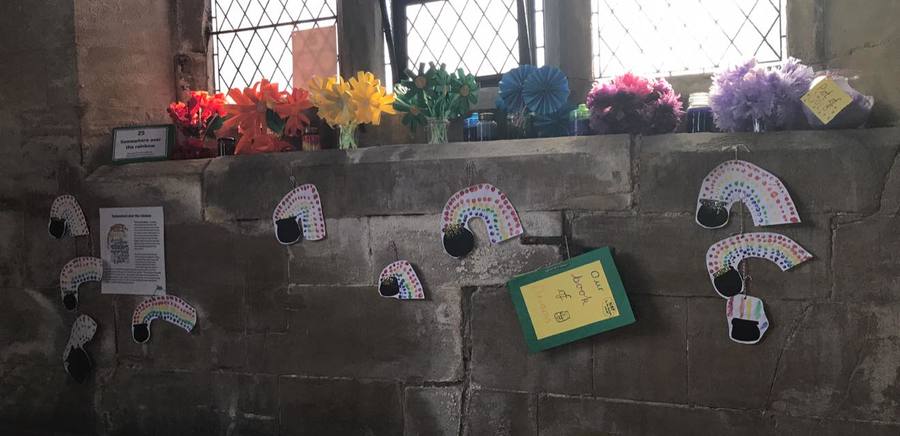 Art Project with Junction Arts
Designing our own model village
ACE!
Adult Community Education (ACE) are running an Outdoor Learning/Crafts Course from The Pumpkin Patch (the allotment opposite 215 New Bolsover) starting on 15th September 2017 for 4 weeks. The course will include; baking bread in a Dutch Oven, eco dying using plants to colour materials, fire lighting skills, willow weaving, willow decorations, building benches. If you would like to enrol on the course please email elsa@bolsovercvp.org.uk